Fukushima Youth Camp in U.S.
福島ユースキャンプ in アメリカ
7月24日から8月7日に、福島県在住の高校生6人が、アメリカのアジア系の高校生たちのキャンプに合流し、交流を深めました。6人はWesley Foundationの奨学金により渡米、アメリカ式のキャンプを通して仲間を作ったほか、日系人家庭でのホームステイも経験しました。
また、震災の経験をプレゼンテーションを行うなど、実り多い2週間を過ごしました。
Six Japanese high school student from Fukushima, which is the area affected by nuclear radiation, joined your camp for Asian Americans from July 24th to August 7th. With scholarships from Wesley Foundation, six students enjoyed American Style Fellowship.
They also had home-stay experience at their Japanese American host families.
Taking opportunities to meet American congregations, they made presentations and shared their experiences as youth representatives. It was exciting, fun, and educational two weeks for them.
参加者の一人は、「普通の夏休みではできないような貴重な体験をすることができました。
震災を経験した高校生として海外の方にプレゼンテーションをしたり、
日系人の方のお話を聞いたり、キャンプでたくさんの同世代のキャンパーとお友達になれたりと
本当に楽しいだけでなくいろんなことを学べる時間でした。」と感想を寄せています。
"It was a very special experience which I'd never had in Japan. We can hardly expect a summer like this. It was so much fun but I also learned a lot during my stay in U.S.", says one of the participants. "
楽しいだけでなく、「もっと英語を勉強して自由に話せるようになりたいと強く感じました」とのこと。
After coming back from the camp, "now I know I should study English harder for the better communication" she concluded.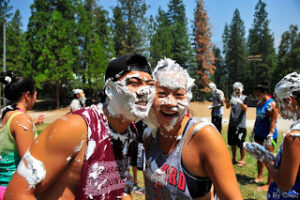 この体験を今後の学校生活や進路に生かして、大きく羽ばたいていただきたいと、Wesley Foundationでは願っています。
We hope that the experiences at the camp will nurture their future.