祈りのたて琴 Pastoral Harp Presentation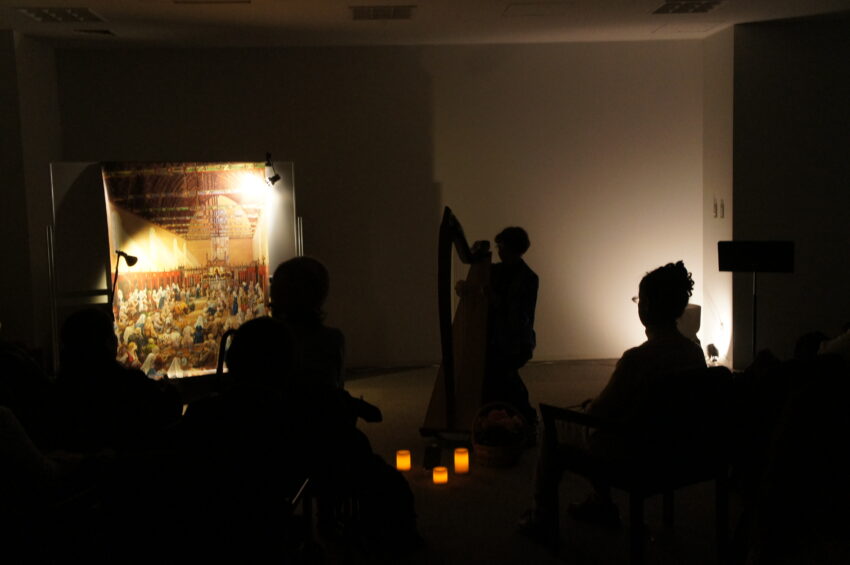 3月20日夕方から、25人の方が参加され、ルーテル派宣教師キャロル・サックさんのハープとお話によるターミナルケアのプレゼンテーションが行われました。
On the evening of March 20th, 25 participants gathered to listen to a presentation on Pastoral Harp (prayerful presence through harp and voice) by Carol Sack, a missionary of the Evangelical Lutheran Church in America.
キャロルさんは、音楽による臨終ケアの勉強をされ、現在「リラプレカリア」というプロジェクトを日本ルーテル福音教団で立ち上げ、死の間際にある方々や肉体的、精神的な癒しを必要としておられる方々へのハープの演奏者の育成をしておられます。
Carol's Pastoral Harp is an offspring of music-thanatology. Pastoral harp usually ministers to the terminally ill or to those in pain through the use of voice and harp. Carol is currently director of Lyra Precaria (Lyre Prayer), a training program in Tokyo under the Japan Evangelical Lutheran Association (JELA) that teaches volunteers who offer pastoral harp mainly to those who are dying, but also to anyone suffering in body, mind, or spirit, when they finish the program.
当日のプログラムは、臨終ケアについての講義、ハープに耳を傾ける体験会、質疑応答、明かりを消しての瞑想と盛りだくさんでした。「ハープで奏でる曲の特徴と、人の心に与える印象の話が心に残りました」と参加者の一人は感想をよせてくださいました。ろうそくの光とほの暗い室内で静かにハープの音に耳を傾けるひと時を通じて、音楽と静寂による平和が私たちの心をいやしてくれることを参加者それぞれが実感されました。
The program at Wesley Center consisted of a lecture on the historical and conceptual background of pastoral harp, listening to examples of music, a Q&A session, and meditation. "The explanation of the effect of the harm music and songs on human's souls was very impressive," one of participants remarked. The presentation closed wit the lights being dimmed and candles lit for a harp meditation which allowed us to feel how our own spirits are healed through music and peace accompanied by stillness.
一般の参加者に加えて、今回は、4月からリラプレカリアで2年間学ばれる方々のご家族の参加も目立ちました。 ご家族がこれから学ぼうとしておられる活動の意義と価値への理解ふ深める貴重な機会になったのではないでしょうか。キャロルさんの「私たちは、神様の恵と愛のための道具にすぎないのです」という言葉を胸に、閉会いたしました。
In addition to the participants who attended, family members of new students, who are going to take part in the two-year-session of Lyra Precaria from the coming April, joined the program. It provided precious opportunity for all of us to learn more about the activities of the program and for family members to deepen their understanding of the value of this program. "We are nothing but an instrument of God's grace and love," said Carol Sack.
リラ・プレカリアについては下記のリンクをご参照ください。
For more information, see the link below.
http://www.jela-foundation.org/servicemusic.htm