Volunteer Trip to Thailand – Part 3
February 9-14, 2016
Please read reflections on the 4th day of the volunteer trip to Thailand by participants Kinoka Adachi and Anna Yoshida.
Today was our fourth day in Thailand. We worked hard from the morning. The girls went to get the concrete mix and the guys laid tiles for the kitchen and dug the holes for toilet drainage. We also wrote "Wesley" in the cement we had prepared the day before.
After we completed our work, we did some sightseeing, saw traditional Lan Na houses, bought souvenirs at the shopping mall and then went to the night market. I felt that we were truly able to experience Thai culture.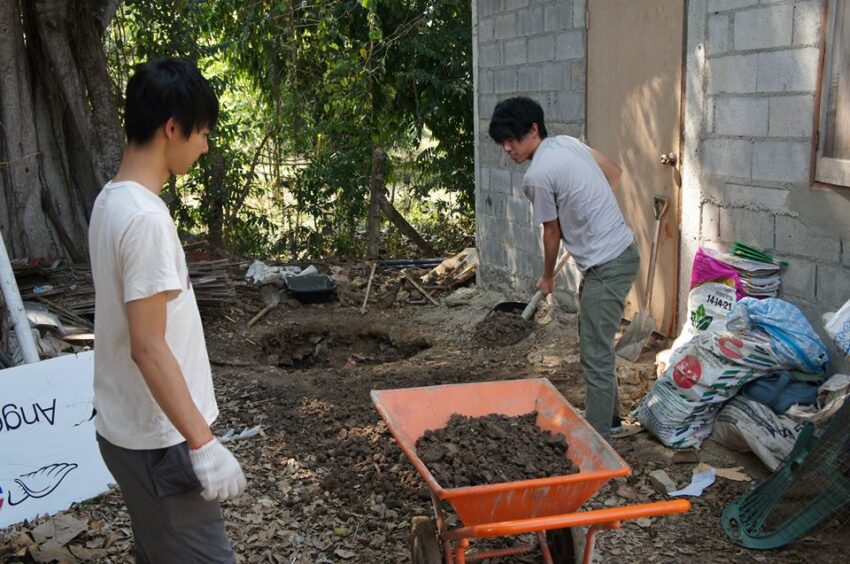 We had to carry the concrete mix from an area slightly far away so it was much more physically challenging than yesterday's work.
Even though it may seem small, I am finally feeling after being here for 4 days, that each of our strengths are contributing to the well-being of the Hmong people.
I strongly feel that the work we did during our trip will improve the lives of the Hmong children. After seeing the houses in Lan Na and hearing about the occupation by the Japanese army, how they first brought drugs into the country and how the drug trade that started then is now one of the main social issues, I realized we shouldn't forget the history. I think it is important to look at the history and not just focus on the sightseeing and thinking that the past is past.
I was feeling ill since this morning so I was not able to do much physical work but I was moved by the kindness and warmth of those around me. We only have one more day left and I hope to make the most of our time with the Hmong people.
Kinoka Adachi
Time passes slowly in Thailand. There is a different richness of life here where the people are not restricted by time and being busy like in Japan.
Compared to the other days, we didn't have as much work to do today. I wondered what I would be able to accomplish on this trip but what I actually accomplished was different from what I expected. I realized that coming to Thailand and spending time with the people here in their daily lives was more important than the actual work we did. When we wrote the words Wesley Foundation in Japan in the concrete, I felt truly thankful of the time we spent with the Hmong people. I am looking forward to tomorrow.
Anna Yoshida