Volunteer Trip to Thailand – Part 2
February 9-14, 2016
Today was the third day of the volunteer trip. Even though each day is long and fulfilling, it seems that the days are passing so quickly. We continued the work from the previous day. I felt that I was getting better with the wire and moving faster. This was the first time I had ever done volunteer work and I was so happy to see my work take shape and make a difference in someone's life. I was out of shape so my hands were shaking, but it was a good feeling of tired.
For lunch we were treated to pad thai (sweet and sour pan fried noodles) made by a local chef. It was delicious!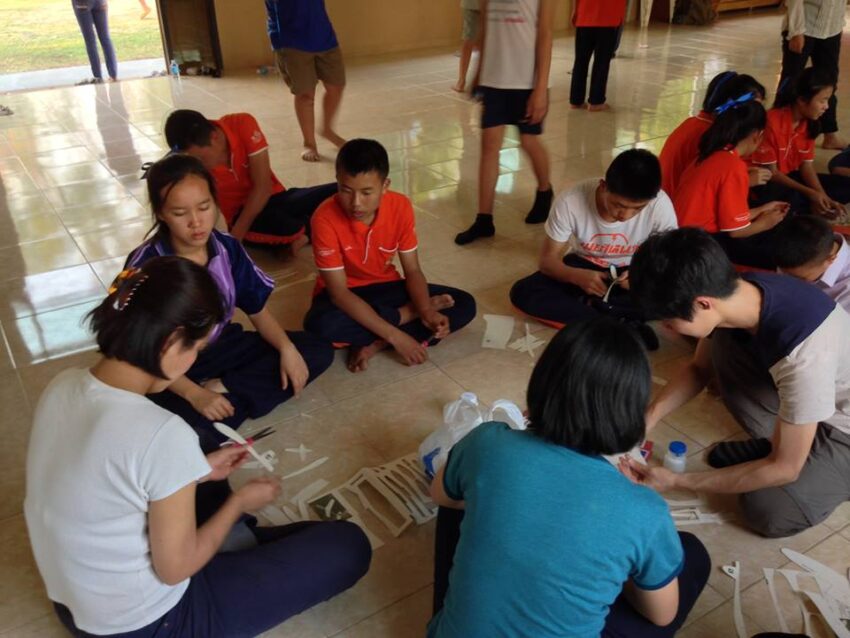 After the children got home from school, we taught them traditional Japanese games such as origami, jump rope, paper airplanes, kendama and top spinning. I was so happy that the children were interested and through these activities, we bonded with them. I understand now why Thailand is called the country of smiles. The smiles on the children's faces were so adorable.
That night we had a barbeque. I was able to speak to some of the girls that work at Gary's cafe. Some of them were HIV positive and currently taking medication and some had parents who died from AIDS.
I was unsure about how to speak with them and hesitated but they approached us and told us they wanted to sing a Japanese song. We all sang "If you're happy and you know it", which we sang at the cultural exchange.
I don't speak Thai and they don't speak Japanese but I felt that in those moments, our hearts were connected and I strongly hope for their happiness. This was the first time I ever felt this way.
Under the night sky full of stars, I could see Orion so clearly. I was amazed by so many things in Thailand and I look forward to seeing how the children grow up amidst the slow pace of life surrounded by such beautiful nature.
Hikaru Yamasaki
————————————–
Today we finished the job of laying the concrete. This is what we have been preparing for. Over the last 2 days, we worked on building the foundation, transporting the dirt, and finally mixing and pouring the concrete. Compared to the first day, today's work was physically challenging but the volunteers and staff all worked together and we completed the task.
After working side by side, I felt much closer to my fellow volunteers. We all felt a sense of accomplishment after seeing our hard work take shape.
Mio Suzuki