Staff Report of Asian Christian Women Online Gathering 2022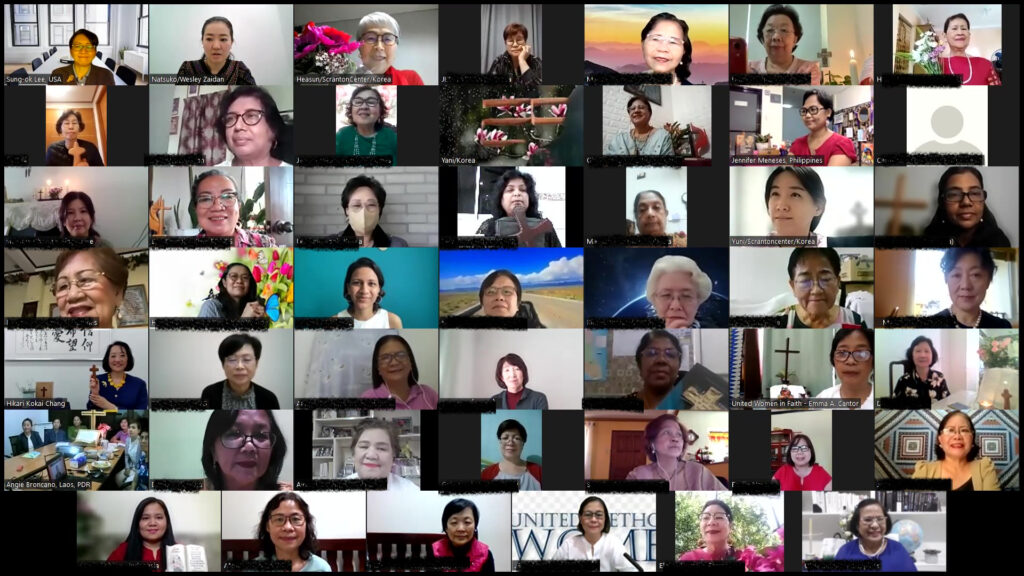 On Saturday, March 5, Wesley Zaidan hosted the first online gathering for Christian women in Asia in seven years.
The gathering was attended primarily by women from churches associated with the East Asia region of the World Federation of Methodist and Uniting Church Women. Approximately 120 women from 10 countries (Cambodia, Indonesia, Japan, Korea, Malaysia, Philippines, Singapore, Taiwan, Hong Kong, and Laos) attended.
Date and time: Saturday, March 5, 10:00-12:30
Number of participants: Approximately 120 (including participants + speaker and staff members)
Theme: "Courageous Asian Women of Faith
Theme Scripture: "I am making everything new! (Revelation 21:5)
Prior to the Covid-19 pandemic, WesleyZaidan provided face-to-face training overseas. The last leadership training for Christian women of faith in Asia took place in Myanmar in 2015. Since then, WesleyZaidan has not hosted a leadership training for Asian church women but has hosted leadership training for young women with the help of church women in their countries.
Around February 2021, about a year after the Covid-19 pandemic, some Asian Christian women expressed a desire for an online international event. In response to this and after discussions among the leadership team, we decided to organize the first online Asian Christian women's gathering. Initially, we had envisioned this gathering as an exchange of experiences and fellowship from different countries, but the number of applicants exceeded 140, far exceeding our initial expectations, so we decided to switch to an online meeting with a focus on lectures, as we realized that it would be difficult to have an exchange in a limited amount of time.
The theme of the online event was "Courageous Asian Women of Faith," and included presentations on the activities of women in churches in various countries that needed to make various changes due to the Covid-19 situation, as well as a lecture by the United Methodist Women's Bureau. (UMW) of the United Methodist Church in the U.S., spoke about new trials and organizational changes and initiatives due to the Covid 19 pandemic (women's leadership in times of pandemic).
Reports from churchwomen from different countries were presented using video and PowerPoint presentations. The churchwomen presented how the Covid-19 pandemic has allowed churchwomen to provide support in their communities and overseas, and how they have conducted online Bible studies and devised face-to-face retreats.
The participants from Laos, who do not have Internet access in their villages, were so enthusiastic that they came out from their villages the day before for the day's meeting and gathered at a location with Internet access to participate in the online event.
The online event started with a message by Rev.Hikari Kokai Chang, the representative director of Wesley Zaidan, and closed with a closing prayer led by Ms. Emma Cantor, a Regional missionary in Asia.
We learned that we can serve our neighbors with ingenuity and wisdom even in the Corona Disaster.
It was a meeting that made us rethink how we can make changes and use ourselves for the benefit of society in the face of many restrictions.
Click here to read more about previous training sessions.