Asian Young Women's Leadership Development Virtual Seminar 2022&Reunion
Wesley Zaidan held Asian Young Women's Leadership Development(AYWLD) Virtual Seminar 2022 online on Friday, 11th, Saturday, 12th and Saturday, 19th February for the first time in around two years.
This seminar was held for those who had participated in Asian Young Women's Leadership Development Seminar in Asian countries from 2016 to
2020. 30 women from nine countries (i.e. Cambodia, Indonesia, Japan, Korea, Malaysia, the Philippines, Singapore, Taiwan, and Vietnam) took part in it. Some of them who lived in Europe and the States also could participate, and that was what is unique to an online program. We received a blessing that anyone could be involved as long as they were connected to the Internet.
Schedule: The evening of 11th, the morning and the afternoon of 12th, and the morning of 19th February
Participants: 30 people and 6 staff members in total for 3 days
Theme: "Together, We Rise Up!"
Thematic verse: Talitha koum! (Mark 5:41) 

Wesley Zaidan held face-to-face seminars overseas before the pandemic of COVID-19. The last time Asian Young Women's Leadership Development Seminar was held was in Singapore in February 2020, and it was already in the midst of the pandemic. The raging COVID-19 made it difficult to conduct face-to-face hands-on seminars overseas. So, it was a great learning that we could give the online seminar for the first time in two years.
The main theme was "Together, We Rise Up!" As a result of carrying out questionnaire surveys among the participants before the seminar, we found that they were curious about mental health and physical health. Therefore, we incorporated lectures and learning about health, and set the theme with hope that we all will rise up together even in the midst of the pandemic.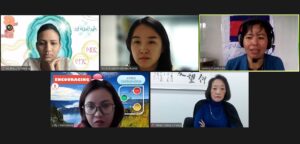 Each of us has experienced various kinds of changes in our daily lives due to the ongoing COVID-19 situation. Online meeting and class as well as working from home and attending church service online became common. In the online seminar, we looked back on what we had experienced, and learned how the pandemic impacted on women and what kinds of issues and changes took place. We also confirmed the significance of maintaining good health and how to stay healthy, sharing our own experiences. Various kinds of issues caused by COVID-19 situation were dealt with, such as difficulty of balancing work and family because of women's increased responsibilities, as well as increased domestic violence, loneliness due to less frequency of meeting people face-to-face, and fear of contracting COVID-19.
Some participants from nine Asian countries told that there were areas where vaccination had not been promoted, and some also shared their painful experiences that their family members, coworkers or themselves were infected with the virus, and how church activities were affected by the pandemic as well.
A doctor of the same generation as the participants, who worked in the Philippines, was invited as a guest lecturer to know medical staff's work and their struggle in the pandemic, and we also received concrete advice on health maintenance and mental health from the perspective of medical care. It was very informative for the young generation.
The staff who planned the seminar also shared her struggle with illness and life of faith during the pandemic, which touched the hearts of many participants.
Every single participant read aloud "Commitment" in the closing service on the last day, which empowered them, and the entire seminar ended.
Although online seminars had some limitations it was found that they also had advantage that anybody could be connected and learn together as long as they could use the Internet.
Wesley Zaidan is planning to conduct a Young Women's Leadership Development Virtual Seminar next year again.
For the past seminars, you can go to the page from here.