Visiting Christian Heritage in Japan キリシタンの里をたずねて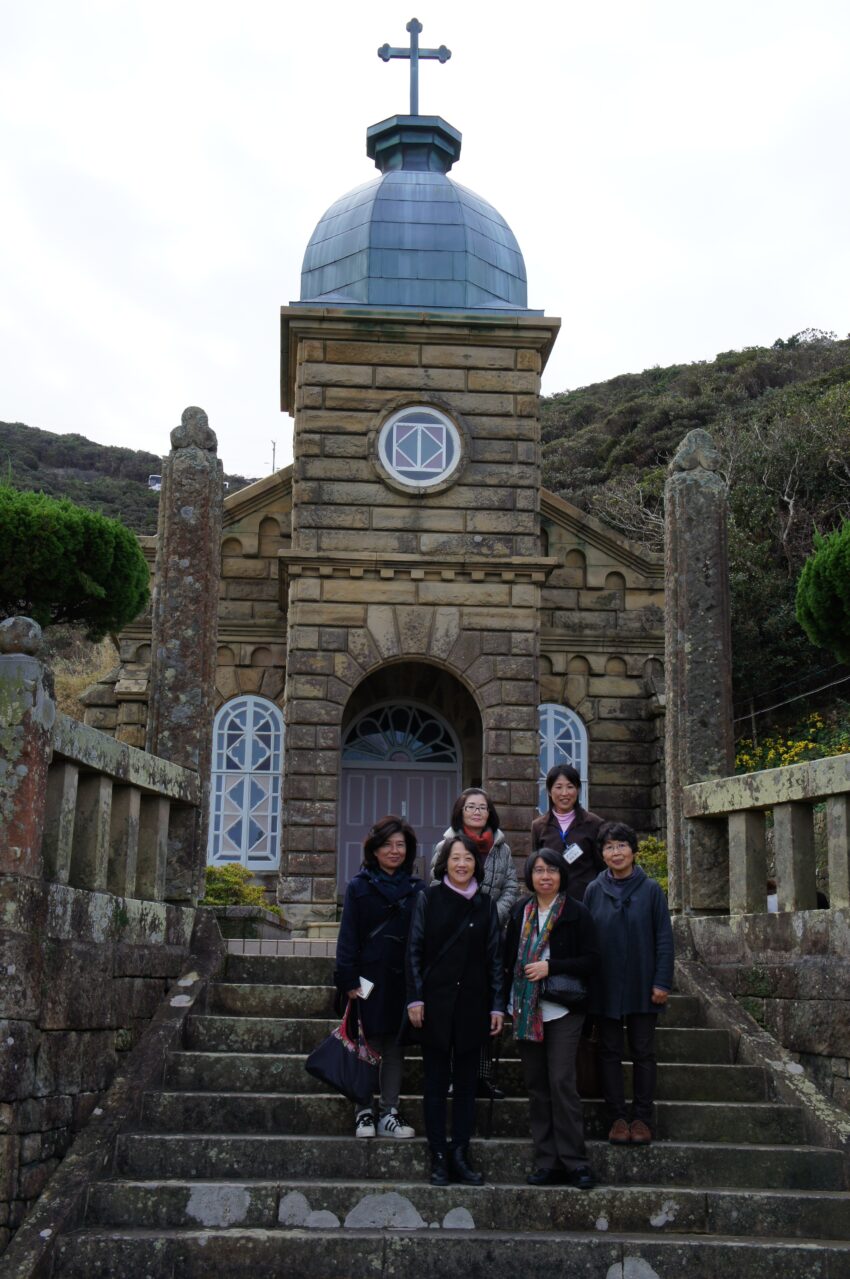 11月13日−16日にかけ、長崎スタディツアーと題して6名で長崎、福江島、上五島を回る旅を実施しました。初日はNPO法人巡礼センターの方のガイドで長崎市内を観光。観光客でにぎわう大浦天主堂から始まって、原爆後、病体を押して原爆症の研究に邁進した永井隆さんが過ごされた如己堂、原爆で半身になってしまった小さなマリア像のある裏上天主堂などを巡りました。
長崎は、いにしえの建物を現代に伝え、今もそれを使い続けています。多くの教会が昔ながらの姿を残し、人々が今もその歴史の中で祈り続ける姿はとても印象的でした。殉教と原爆の歴史に洗われてきた長崎。多くのキリシタンが、時に親子で、命を落としていったという話を伺い、長崎の歴史に一同圧倒されてしまいました。
Wesley Center organized a Nagasaki Mission Trip visiting Christian Heritages in Kyushu area from November 13th – 16th. A total of seven participants along with a pilgrimage guide toured Nagasaki and two islands famous for hidden Christians. We started with Oura Catholic Church in Nagasaki and then we visited Nyoko-do which is a doctor's clinic where a doctor took care of atomic bomb survivors and he himself later died of cancer. We also saw Uragami Church where the body on a tiny stature of the Virgin Mary had half melted due to the atomic bomb.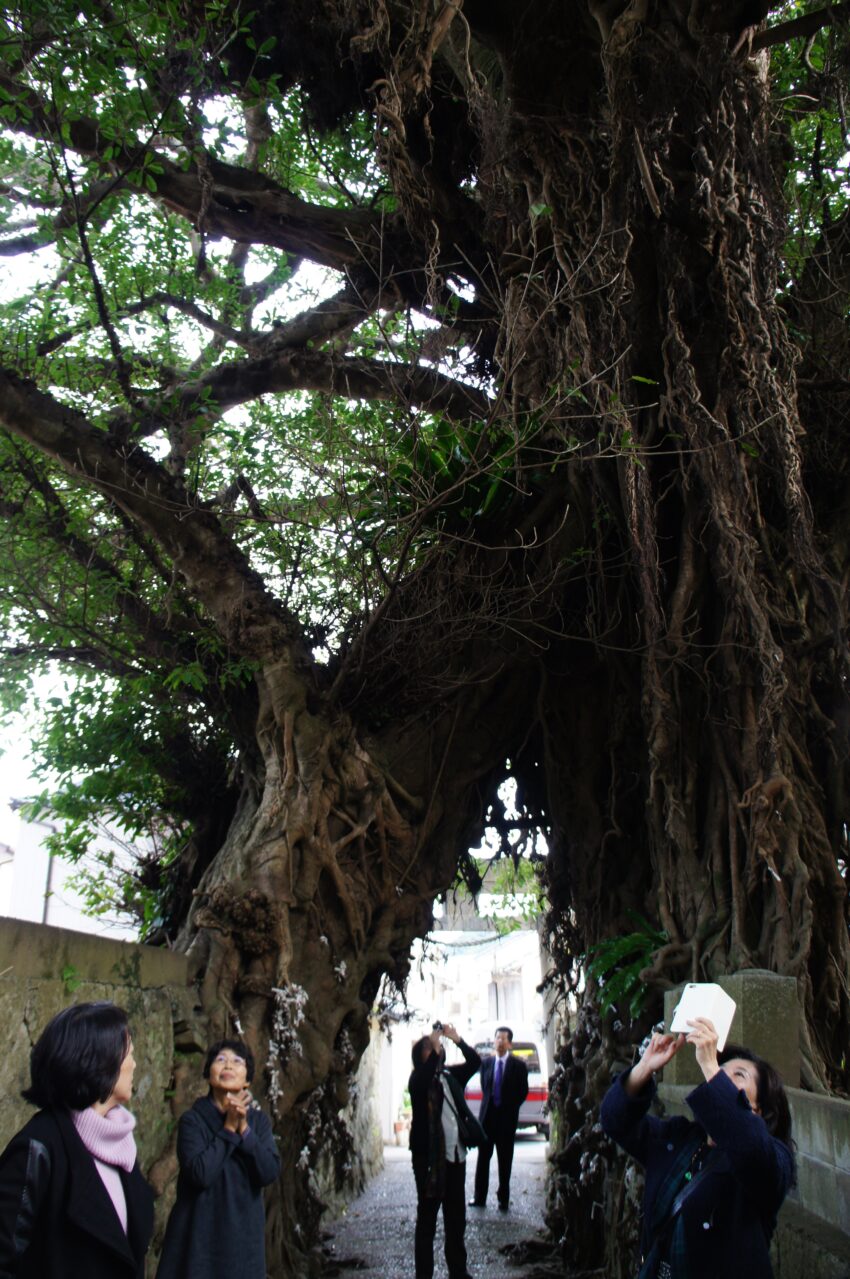 二日目からは五島に移り教会を訪れました。上五島と下五島、二つの島には大小たくさんの教会があり、その数は、上五島だけで29。一番大きい教会は、在籍会員数が1000人もいるといいます。集落によってはほぼ全員がクリスチャンというところもあるそうです。教会は、それぞれ独自のつくりで、とても個性が豊かでした。中には、ヨセフがイエスを抱いている(通例はイエスを抱くのは聖母マリア)といった珍しい像のある教会もありました。
その多くは、人目につきにくい海辺の絶壁や山奥などに建てられ、教会とキリスト教がどれほど時の為政者にとって疎ましいものであったかが伝わってきます。
It was very impressive that there are many churches in Nagasaki with over 100 years of history and many of them are still functioning as churches. We were overwhelmed by the rich and heavy history of Nagasaki as we listened to the tragic stories of the atomic bomb.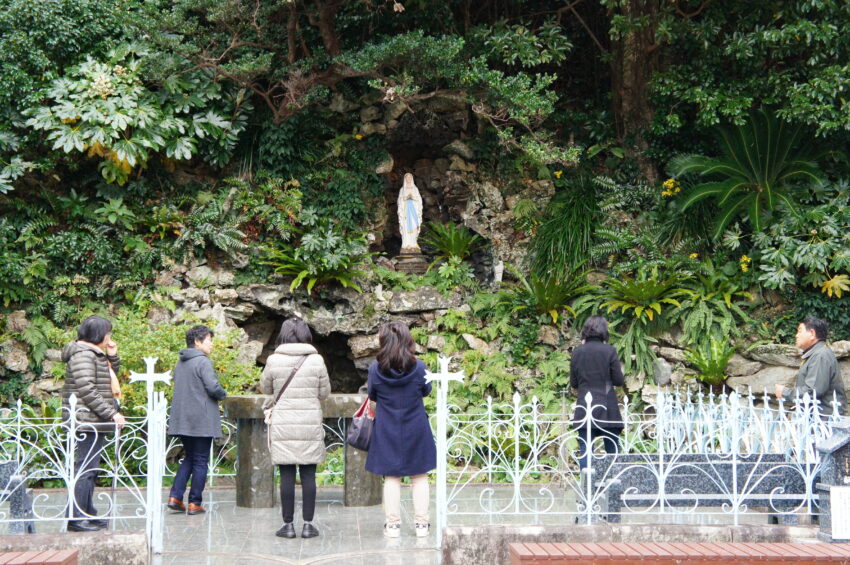 専門のガイドさんのお話を聞きながらの教会巡りは、歴史への理解を深めてくれる絶好の機会でした。様々なお話の中で、特に印象的だったのは、手こぎの小舟で2時間かけて礼拝にいくといった大変な苦労をしながら信仰を守ってきた人々の姿でした。それほど過酷な環境の中で信仰を求める人たちがいる一方で、命がけで海外から宣教にきて、そうした熱い祈りを支える人たちがいたという事実に触れ、人間の力の大きさと、信仰の力の大きさを感じる、貴重な旅になりました。
On two tiny islands, many little churches had gathered partially because Christians moved to avoid prosecution by the-then-government of Edo. Many of the churches were built secretly on the seashore or deep in the mountains. A person who was in his 70s said that it took 2 hours for him to attend the service as he had to go down the river in a tiny row boat. The faithfulness of the congregation and the strong "calling"of the missionaries to come over to Japan to serve strengthened their faith. We, in the i21st century, find their fervent faith astounding.