Wesley Zaidan's work was presented at SMYP
On Friday, July 29, a program staff member gave a presentation about the work of Wesley Zaidan and one of its international programs, "Asian Young Women's Leadership Development Seminar," at the School of Mission for Young People Program held online in the Philippines.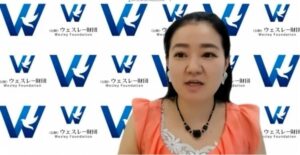 The School of Mission for Young People Program is divided into two phases: Phase 1 and Phase 2. Phase 1 is for young people in the Philippines, Indonesia, and Myanmar, with opportunities to hear from various organizations and churches and learn more about mission-related areas. In the second phase, participants from the Philippines will visit various organizations directly and learn about their ministries.

The theme of the July 29 program was "New Perspectives in Mission", with five speakers sharing their mission activities, struggles, and perspectives with young people of their generation.
Wesley Zaidan had the opportunity to speak at one of the sessions of the July 29 program. More than 40 people participated online.